Course Hours: 1200 clock hours
Classification of Instructional Program (CIP 12.0401)
Standard Occupational Classification (SOC39-5012.00)
The complete Cosmetology Hairstyling course consists of 1200 clock hours as prescribed by the New Jersey State Board of Cosmetology and Hairstyling.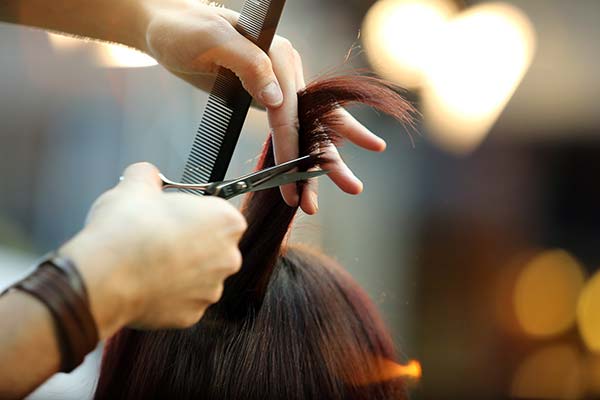 The educational objective of the complete Cosmetology Hairstyling curriculum is to provide the student with training sufficient to pass the state board exam, to become properly licensed, and to perform all duties required under such license to secure employment at an entry level. Classes begin on the first Monday of every month unless otherwise scheduled. Successful completion of the course qualifies you to take the NJ State Board Exams. Upon passing both portions of the Boards you will receive your License. Full transfer credit may be allowed for previous training, subject to the regulations of the New Jersey State Board. During the first 600 hours, your time is spent in classroom work consisting of lecture, demonstrations, practice on mannequins and evaluations. Upon completion of 600 hours, all assigned work, a doctor's certification, and upon recommendation of your instructor, you will advance to the senior class and be permitted to practice on clients. All of your remaining time will be spent on practical work, additional advancement lectures, class projects and complete subject reviews, as well as salon management techniques. Obtaining a Cosmetology Hairstyling license allows an individual to practice all phases of Cosmetology Hairstyling including manicures, pedicures, skin care, barbering, depilatory service, and make-up application.
This program is designed to be completed in 40 weeks/10 months/1 year.
This program will cost $16,632 if completed within normal time. There may be additional costs for living expenses. These costs were accurate at the time of posting, but may have changed.
Of the students who completed this program within normal time, the typical graduate leaves with
$ 7,500 of debt.
1) Program meets licensure requirements in the following States: New Jersey
For more information about graduation rates, loan repayment rates, and post-enrollment earnings about this institution and other postsecondary institutions please click here: https://collegescorecard.ed.gov/
***Cosmetology and Hairstyling program available in English and Spanish***